3D landscape design is growing rapidly from a "trend" to an "essential" in the landscape industry. As technology continues to advance, more and more landscape designers are turning to 3D designs to create accurate and realistic representations of their projects. And we have noticed that homeowners are very excited about this!
"I've found that 3D designs often help customers understand the potential of their space better, with specific views and elevations – it's really a sneak peek at what their project will realistically look like in the daytime or at night! 3D renderings allow customers to visualize a more detailed perspective of their project."

Robyn Loewen – Landscape Designer, Artisan Outdoor
Increasingly, clients are requesting more detailed and accurate visualizations of their potential outdoor updates. 3D designs can showcase the details of a project such as finish textures, lighting and landscaping elements – allowing the project's proposed result to be better imagined.
3D landscape renderings are different from line drawings in that they incorporate depth and dimensionality. The use of shading, perspective and other techniques contribute to create the illusion of depth and spatial relationships. The result: a more lifelike and immersive experience. 3D renderings are especially helpful to those who "can't visualize" what the results might look like, based solely on line drawings, photos, and loose finish samples.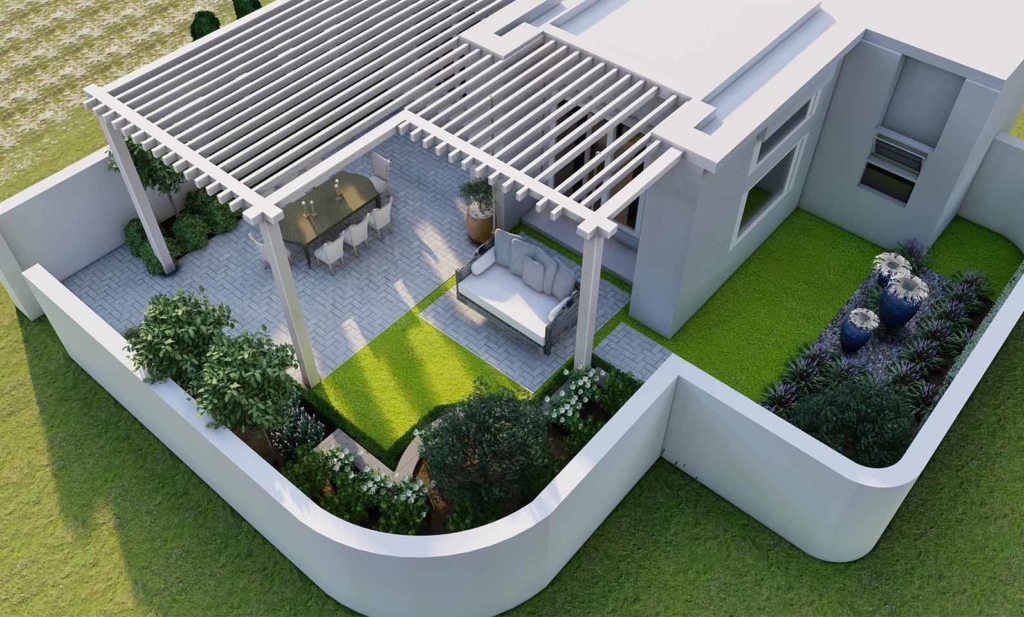 When planning a big project, 3D designs are beneficial in addition to 2D line drawings, as they are primarily for visualization purposes. Although valuable in many ways, 3D renderings do not contain level of detail required to build many projects. When building, landscape contractors and their crew members usually require a set of detailed line drawings with construction call outs and specifications. This, of course, all depends on the size of the project.
The moral of this story? 3D landscape design is here to stay! Discuss the option of 3D renderings with a landscape designer to decide if the benefits are for you and your project goals.
Ready to plan your project with a 3D Landscape Design? We can help! Contact us to schedule an appointment with one of our Landscape Designers. We are experts in designing, building, and maintaining outdoor living spaces.
Design
The most beautiful environments have all begun with a comprehensive plan, one that explains the elements of the landscape and shows where each detail will be placed. Our goal is to make your outdoor living space enjoyable, unique, and intriguing.
Learn More